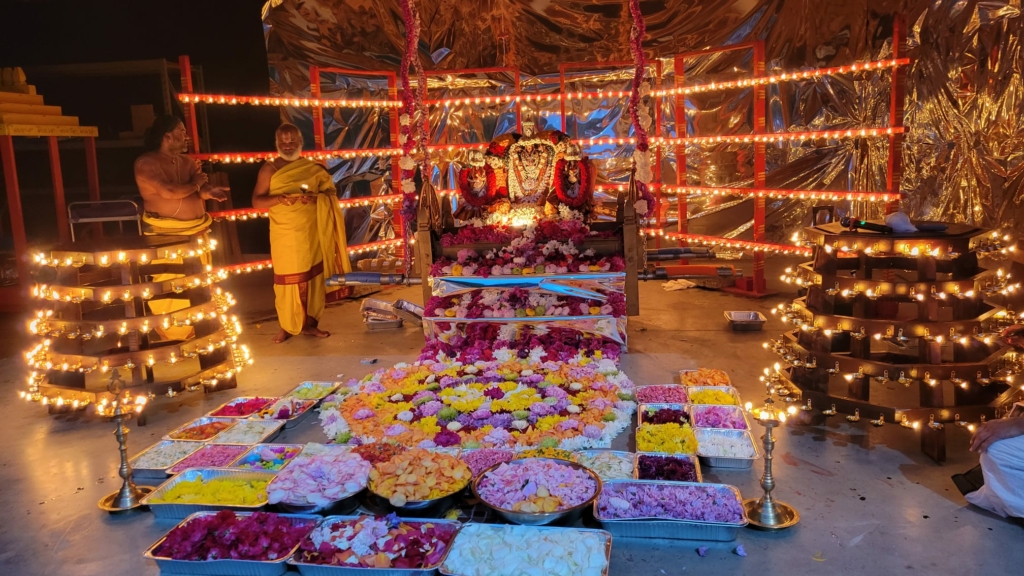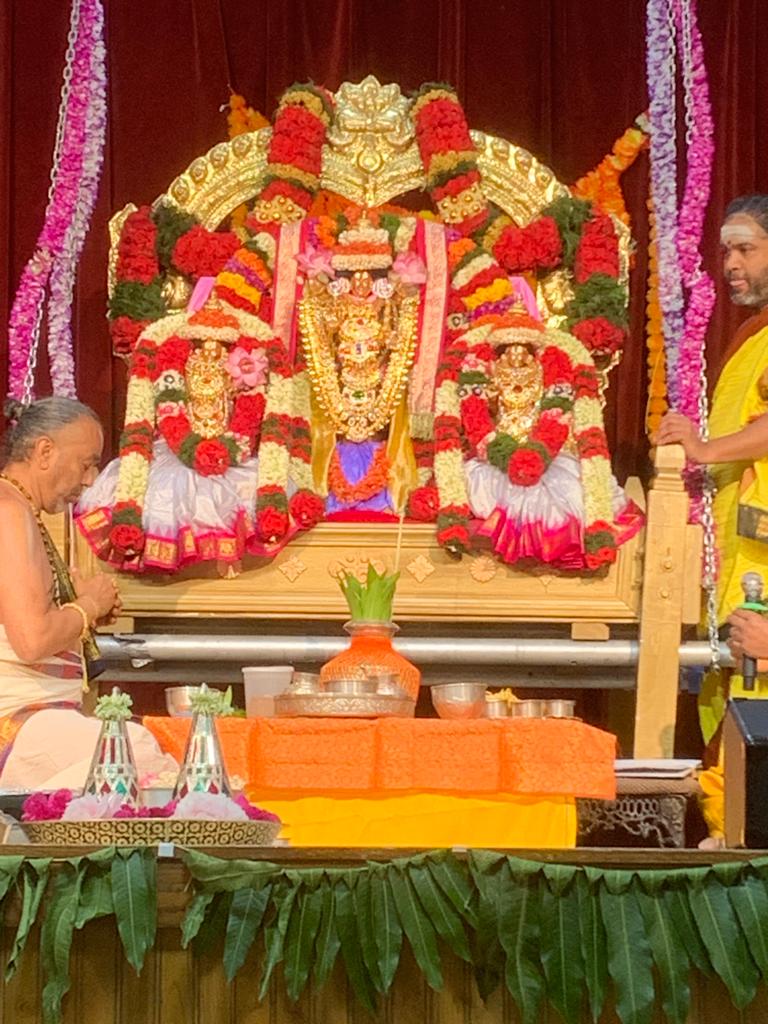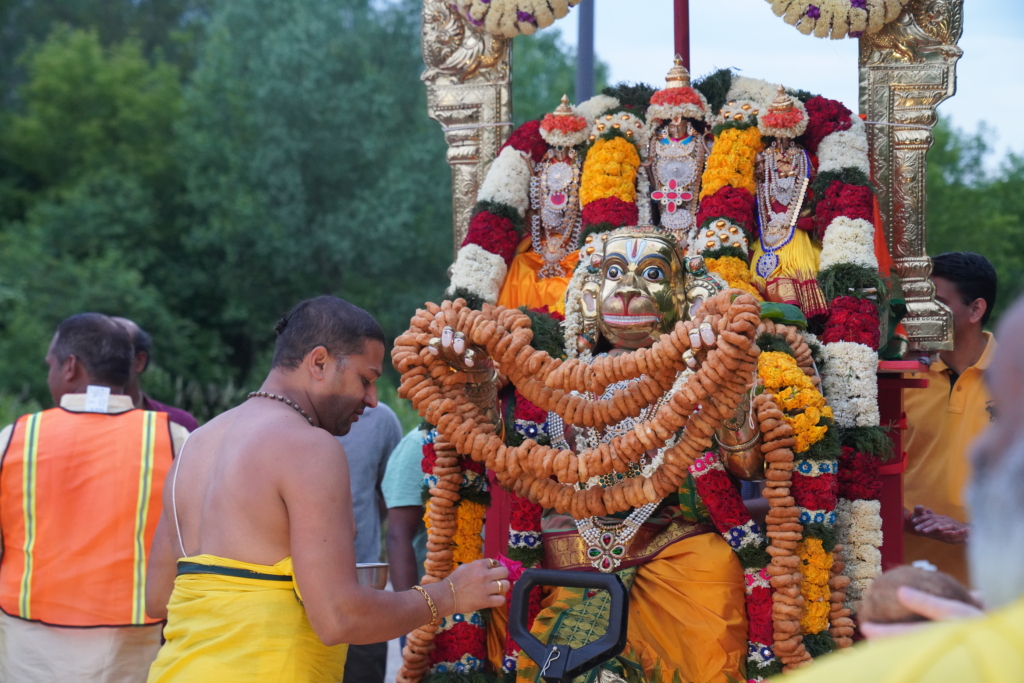 Sunday June 11 Schedule
June 11, Sunday, Morning
8:30 AM Yagasala Puja
9:30 AM Moola Mantra Havan;
10:30 AM MAHA PURNAHUTI;
11:00 AM Dwara Paristarana Bali; Kalasa Udwasanam
11:30 AM UTSAVAMURTHY ABHISHEKAM
12:15 PM Pushkarini Puja
12:30 PM Chakrasnanam, Alankaram.

June 11, Sunday, Evening
4:00 PM Kalyana Utsavam
5:30 PM Rathanga Puja, Havan,
6:00 PM RATHOTSAVAM
8:15 PM Dhwaja Avarohanam,Prokshanam
8:30 PM Pushpa Yagam; Dwadasa Aradhana
9:30 PM Maha MANGALA AARATI; PRASADAM
9:45 PM Ekantha Seva


Day 6: Abishekam
The Srimad Bhagavatam describes how Krishna is ever-eager to reciprocate with the love of His devotees
For Mother Yashoda, Maha Vishnu became the innocent baby Gopal
For the beautiful gopis of Vrindavan, He manifested as the charming Kishora
For the ardent Prahlada, He incarnated as the vigorous Narasimha Bhagavan

In the Bhagavad Gita, Krishna lovingly explains
Patram pushpam phalam toyam
yo me bhaktya prayaachatti
tad aham bhakti uparitam
ashnami prayatatmanaha

Oh Arjuna, whoever, with love in his heart, offers me a leaf, a flower, or even a drop of water, I lovingly accept.

Krishna is ever-eager to reciprocate with even the smallest expressions of our devotion.

The abhisheka ceremony is a way of bathing the Lord with the devotion of our hearts.
Refresh Him with the cooling milk of pure intentions, sweet honey of devotion, and fruits of surrenderance

Jai Sriman Narayana!

Day 6: Chakra Snanam
Sudarshana Chakra is the spinning discus of MahaVishnu who assists the Lord in protecting His devotees and destroying the miscreants.
He represents the fierce and protective aspect of Lord Narayana.

It was Sudarshana who killed the vicious Shishupala.

It was Sudarshana who manifested as Bharata, the younger brother of Sri Rama.

Su means auspicious, and darshan means to see.
Sudarshana is that transcendental deity who brings blessings and good fortune to the onlookers.


Dipping ourselves into the holy, mantra-infused waters sanctified by the Sudarshana Chakra, He ensures to bless and protect us.

Jai Sriman Narayana!

Day 6: Kalaynam
Today we are blessed to have darshan of the beautiful wedding ceremony of Lord Maha Vishnu and His energies, Sri Devi and Bhu Devi
While Sri Devi represents His Anugraha Shakti (compassion potency), Bhu Devi signifies his Nigraha shakti (Controlling potency).
The beautiful wedding ceremony is a festival for the eyes- a wonderful nayanotsavam indeed!

Vakula devi is considered the reincarnation of Mother Yashoda, who manifested to take part in the wedding of her beloved son, Srinivasa.
Today, we are blessed to get the same darshan she did so many centuries ago.

Srimad Rama Ramana Govindo Hari!

Day 6: Ratha Yatra
Every summer in Puri, Odisha, the supreme lord in the form of Jagannath leaves his temple to personally visit his devotees.
Ratha refers to chariot, and yatra means journey
This is an expression of the Lord's compassion to leave the temple premises and personally come out to meet his bhaktas.
Let us take this opportunity to welcome the Lord into our hearts so that we may serve Him with dedication, devotion, and simplicity.

Jai Sriman Narayana!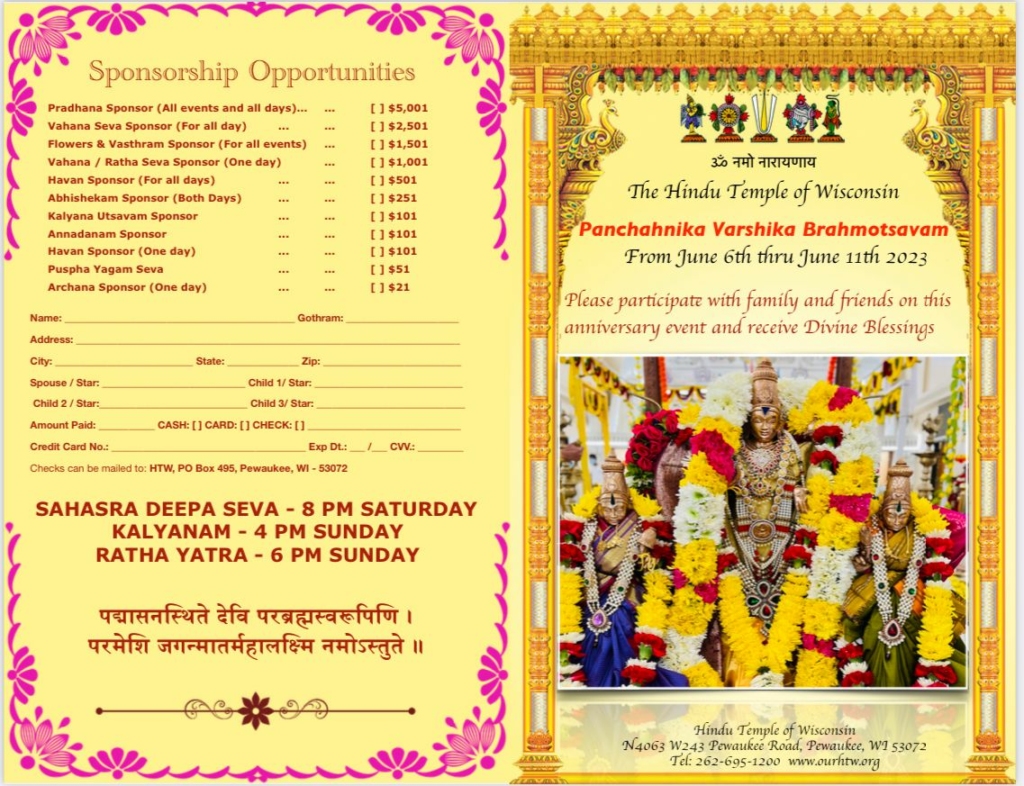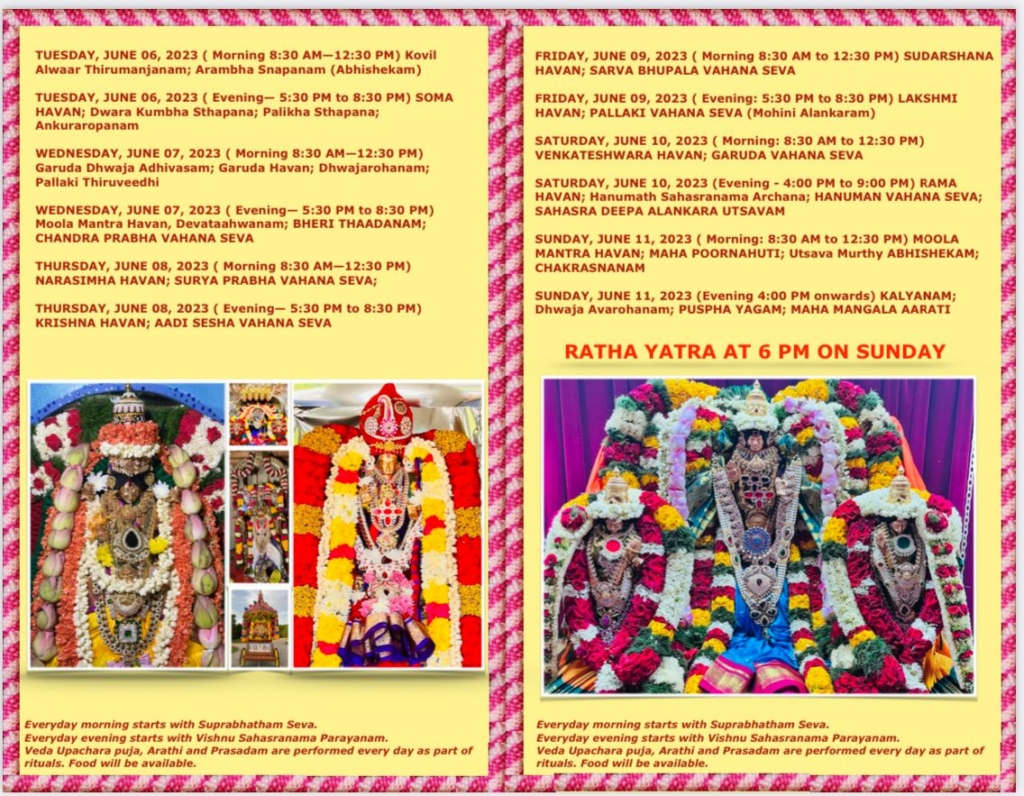 Brahmotsav Pradhana Sponsor
Vahana Seva Sponsor (For all days)
Flowers & Vasthram Sponsor (For all events)
Vahana/Ratha Seva Sponsor (One Day)
Abhishekam Sponsor (Both Days)
Archana Sponsor (One Day)
The Hindu Temple of Wisconsin is grateful for community involvement (various groups) in several ways, including preparing food every day for all five days.
Overflow Parking is available in Costco and Church next to our temple